Author Information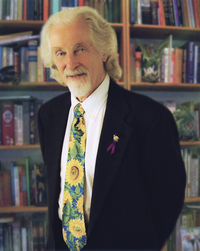 Photo by Gregory C. Ford
Raymond Buckland
Raymond Buckland was actively involved in metaphysics and the occult for fifty years.

He was the author of more than sixty books, including such best-selling titles as Buckland's Complete Book of Witchcraft, Gypsy Dream Dictionary, Practical Candleburning Rituals, and Witchcraft from the Inside. Ray lectured and presented workshops across the United States, and appeared on major television and radio shows nationally and internationally. He also wrote screen plays, was a technical advisor for films, and appeared in films and videos.

Ray came from an English Romany (Gypsy) family and resided with his wife Tara on a small farm in central Ohio. Beyond writing, Ray's other passion was homebuilt airplanes.
FEATURED TITLE BY THIS AUTHOR

Trade Paperback | $15.99 | 9780738723204 | April 2011
Connecting with your departed loved ones doesn't have to mean visiting a medium or taking a specialized course. With the proven techniques in this book, you can contact spirits anytime you...
Read more
OTHER TITLES BY Raymond Buckland
ARTICLES BY THIS AUTHOR
Date: 2011-04-04
Spiritualism is a belief in a continuance of life, for the spirit, after that transition that we term "death." More than that, it is a belief that it is possible to make contact with that spirit of the one who has made the transition. But do we need a medium to make that connection? Raymond Buckland, author of numerous books and the new Solitary Séance, posits that anyone can contact the deceased, and that it is easier than you might initially think.
Date: 2004-03-15
"The Mysteries" . . . we generally think of these in relation to the ancient initiatory rites of Greece and Rome; the Eleusinian Mysteries, the Orphic, the Phrygian, the Mithraic, plus the Egyptian, Tibetan, and others. Yet the term could as well be ...
Date: 2002-05-01
Today, with the many books available and with more and more movie and television shows providing more-or-less accurate portrayals of Wicca, a tremendous interest in the Old Religion has developed, with many, many people seeking to come into it. Yet ...
Date: 2002-05-01
I never realized there were so many uses for color in magick!" It was a Wiccan Priestess who spoke, and what she said surprised me. I knew that she had used color in healing and aura work for many years but, apparently, she had not thought of its ...