Author Information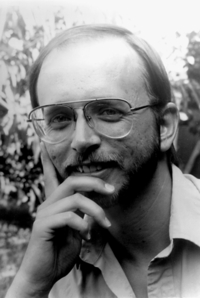 Scott Cunningham
Scott Cunningham practiced magic actively for over twenty years. He was the author of more than fifty books covering both fiction and non-fiction subject matter; sixteen of his titles are published by Llewellyn Publications. Scott's books reflect a broad range of interests within the New Age sphere, where he was very highly regarded. He passed from this life on March 28, 1993, after a long illness.

FEATURED TITLE BY THIS AUTHOR

Trade Paperback | $15.99 | 9780738747897 | February 2016
Seeking the divine through dreams is an ancient and nearly forgotten technique for personal spiritual connection. Dreaming the Divine shows you how to push beyond the boundaries of ordinary dreaming...
Read more
OTHER TITLES BY Scott Cunningham
ARTICLES BY THIS AUTHOR
Date: 2009-12-10
From The Magical Household by Scott Cunningham and David Harrington To begin, open all windows and doors to allow negativity to easily vacate your house. The act of opening up your house at the very least replaces the stale air with fresh. It is also part of the ritual of purification and is symbolic of your intention to clean the house. Fresh air and sunshine also help sweep and...
Date: 2008-05-15
(You alone will know when to perform this ritual. It can be done at any phase of the moon, during the day or night, whenever needed.) You'll need one large white or pink bowl; one white candle; water; small, fresh flowers (white blooms are best) and one piece of white cotton cloth. Place the bowl on the altar (or on any table). If desired, cast a circle. Affix the white candle to the center...
Date: 2008-04-23
Originally published in Llewellyn's New Times, issue number 921. When I was fifteen years old, I was handed a visa of sorts. This "visa" consisted of an open invitation to explore the byways of human thought and practice that have become known as magic. I eagerly took up this work, for nothing in my life until that time had sparked all three levels (mental, emotional and spiritual) of my being....
Date: 2008-03-28
In honor of the June 26th birthday of one of Llewellyn's most beloved authors, the late Scott Cunningham, we have included two spells from his book Earth Power: Techniques of Natural Magic. A TREE SPELL When you have found a tree to work magic with, take a large leaf, a charcoal-tipped stick, a piece of flexible vine or natural-fiber cord, and a dime to the tree. Sitting beneath it,...
Date: 2008-01-28
To be used before and/or during all forms of magical rites. This formula boosts your reserve of personal power. Use at least four cups of water to simmer the following mixture: 4 tablespoons of dried orange peel 4 tablespoons of whole allspice 2 tablespoons ground ginger 2 whole carnations (preferably red) or 1 tablespoon of ground cloves Charge the herbs and spices while mixing them in a...
Date: 2007-06-01
Before the rite, make up a small cloth pouch filled with herbs such as lavender, chamomile, St. John's wort, vervain, or any of the Midsummer herbs1. Mentally pour all of your troubles, problems, pains, sorrows, and illnesses, if any, into this petition as you construct it. Tie it shut with a red string. Place this on the altar for use during the rite. The cauldron should also be there or nearby....