Author Information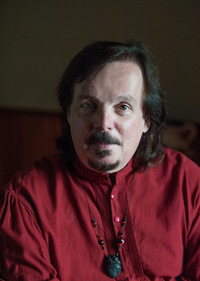 Raven Grimassi
Raven Grimassi is a Neo-Pagan scholar and award-winning author of more than eighteen books on Witchcraft, Wicca, and Neo-Paganism. He has been devoted to the study and practice of witchcraft for over forty years. Raven is co-founder and co-director of the Ash, Birch, and Willow tradition.
Grimassi's background includes training in old forms of witchcraft as well as Brittic Wicca, the Pictish-Gaelic tradition, Italian Witchcraft, and Celtic Traditionalist Witchcraft. Raven was also a member of the Rosicrucian Order, and studied the Kabbalah through the First Temple of Tifareth under Lady Sara Cunningham.
Raven currently lives in New England with his wife and co-author Stephanie Taylor-Grimassi. Together they direct The Fellowship of the Pentacle, a modern Mystery School devoted to preserving pre-Christian European spirituality.
FEATURED TITLE BY THIS AUTHOR

Trade Paperback | $17.99 | 9780738703381 | October 2003
In this one-of-a-kind guidebook, award-winning Wiccan author and scholar Raven Grimassi presents an insightful portrait of the spirit of the Witch. He explores the spiritual element of the rituals,...
Read more
OTHER TITLES BY Raven Grimassi
ARTICLES BY THIS AUTHOR
Date: 2008-05-19
Whatever the origins of May Day or Beltane are, it is still celebrated as a time of renewal within nature. Beltane can also be regarded as a celebration in anticipation of the coming summer season. Raven Grimassi, author of Beltane, discusses traditional May Day rituals and customs.
Date: 2008-04-28
England The festivities now associated with the celebration of May reached their height in England during the Middle Ages. They were heavily influenced by Italian forms of celebration dating back to the time of ancient Rome. On the first day of May, English villagers arose at daybreak to wander the countryside gathering blossoming flowers and branches. A towering, tall Maypole was set up on...
Date: 2004-09-01
Have you ever wondered about your existence prior to your birth? Do you ever think about what happens after death, or wonder about the purpose of your existence? If so, you have touched upon the very mysteries that are the foundations of Witchcraft ...
Date: 2003-07-01
When I was a young boy my father worked for the government. His job required our family to move every year to a different state. The move always took place in the summer and always meant that I had to wait to make new friends until school started in ...
Date: 2002-09-01
The vision of the old village Witch tending her garden in the day and weaving magic at night is a powerful image. Her craft was a timeless art and her ways were an ancient faith. The Old Religion of the Witches' Craft had itself been passed to her ...
Date: 2002-05-01
Seasons of the Witch by Raven Grimassi As my thoughts turn from Spring to the coming of Summer, I am reminded of my mother's herb garden when I was a child. It was there that I learned a love for Nature and for the Old Ways. My mother was born and ...
Date: 2001-03-01
Raven Grimassi's Beltane, the third in Lllewellyn's series on the Wiccan sabbats, examines the ancient Pagan origins of May Day festivals that thrived up to the end of the nineteenth century. Explore the evolution of the Maypole and various folklore ...