Author Information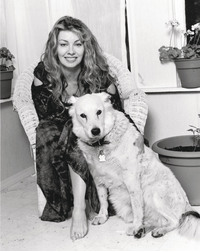 Anna-Marie Ferguson
Anna-Marie Ferguson, a Scorpio, was born November 10, 1966, in the heart of the New Forest, Hampshire, England. When she was ten years old her family emigrated to rural Alberta, Canada. Anna returned to England in 1982 to undergo training in graphic design. She eventually returned to Alberta, where she continued a career in design, devoting her spare time to developing her illustrating skills, ably assisted by her three cats.
Anna's fascination with Celtic legends and the Tarot began when she was a child in England. The atmosphere of the New Forest was steeped in history, and faithful readings of the legends cultivated an appreciation of "the romantic" in Anna. Such formative influences have inspired Anna to keep this bygone age alive through her art.
FEATURED TITLE BY THIS AUTHOR

Boxed Kit | $26.99 | 9780738702995 | September 2006
The Amazing, Century-Spanning Tarot The Llewellyn Tarot is a stunning achievement that has already drawn acclaim for its depth and beauty. Its watercolor imagery invites you into a mystic...
Read more
OTHER TITLES BY Anna-Marie Ferguson
ARTICLES BY THIS AUTHOR
Date: 2006-06-30
Even in the bright light of our modern age, the country of Wales retains its air of mystery. It is a land of green faery valleys, mist, mountain grandeur and standing stones. It has a turbulent history that has daring heroes, poignant art and many ...