Author Information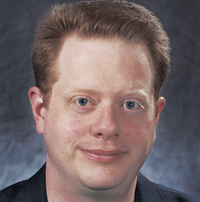 Mark McElroy
After purchasing his first Tarot deck in 1973, Mark McElroy began terrorizing other neighborhood nine-year-olds with dire and dramatic predictions.Today, he calls Tarot "the ultimate visual brainstorming tool," and shares techniques designed to help others ask better questions, see more options, and achieve their goals.

He is the author of Putting the Tarot to Work, Taking the Tarot to Heart, What's in the Cards for You?, and the new I Ching for Beginners (all Llewellyn). He is also the author of The Absolute Beginner's Guide to Tarot (Que).

Mark holds a B.A. and M.A. in creative writing and composition from the Center for Writers at the University of Southern Mississippi. He has more than two decades of experience as a public speaker and corporate trainer. He has written, produced, and hosted classroom, video, and online training for some of America's biggest companies, including SkyTel, MCI, Office Depot, Staples, and many others. Today, he works as a writer, voice actor, and creativity consultant; samples of his work are available at www.hiremark.com and www.tarottools.com.

Mark lives and writes in Mississippi, where he shares a home with his partner, Clyde, and two cats, Tiger and Lilly.


FEATURED TITLE BY THIS AUTHOR

Hard Cover | $39.95 | 9780738748993 | February 2016
A labor of love ten years in the making, Tarot Fundamentals is Lo Scarabeo's authoritative compilation of tarot knowledge. With thorough perspectives on tarot history, reading, spiritual work, card...
Read more
OTHER TITLES BY Mark McElroy
ARTICLES BY THIS AUTHOR
Date: 2008-11-12
What to DoWith the situation, issue, or challenge in mind, draw a single card in answer to the question, "What do I need to know most about this issue?" And yes—this strategy is really that simple. If you're new to the process (or if the ideas don't come of their own accord), invest a minimum of five minutes studying the card. On one side of a sheet of paper, list all symbols, images,...
Date: 2008-03-25
Do you believe you've lived before? At a party I attended in 2006, I met a middle-aged man who claimed to have recovered memories of a past life. After dinner, he pushed back his plate of bread pudding and announced, "In a former life, I was a black woman. I clearly recall giving birth to a baby in the middle of a cotton field behind the railroad tracks." Earlier the same year, I met a woman...
Date: 2007-12-10
What do to: Earlier [in the book], I mentioned one TV psychic who zips through her Tarot cards as fast as she can. In fifteen seconds, she'll go through ten cards, smacking them into piles and making up a story as she goes. "King of Cups! You're seeing an older man, aren't ya? Three of Coins! It's lots of work maintaining that relationship, eh? But here's the Eight of Coins, which tells me you...
Date: 2006-04-03
Leonardo da Vinci didn't play by the rules. He accepted commissions he never finished. He invented machines so advanced, the technology of his day couldn't produce them. He completed masterpieces -- like The Last Supper -- using untested and ...
Date: 2005-12-31
Even in a world where your Aunt Bessie practices feng shui and Madonna talks Cabala, most people scratch their heads when someone mentions the I Ching. "Wait, wait — don't tell me," they say. "I Ching … isn't that some kind of root you can smoke to ...
Date: 2005-05-01
Do any of these comments sound familiar? • A rude acquaintance rolls her eyes and scoffs, "Tarot? Do you actually believe in that crap?" • A friend or family member smiles sympathetically and says, "I don't really understand what you see in ...
Date: 2004-06-14
The Deck is Out There: Three Simple Principles to Help You Find the Deck of Your Dreams Remember the good old days when ice cream came in two flavors? When televisions received just three networks? When Henry Ford offered customers any color car ...
Date: 2004-02-02
If you've been working with Tarot for any length of time, you've already confronted at least one of the following challenges: - An anxious client sits across from you. Her question is very clearly defined. How long before that money arrives in ...