Author Information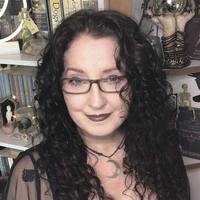 Photo by Brittany Sherman
Mickie Mueller
Mickie Mueller (Missouri) explores magic and spirituality through art and the written word. She includes magical herbal washes in her art that correspond with the subject, making every piece enchanted. She is the author/illustrator of The Voice of the Trees; the illustrator of The Mystical Cats Tarot; and author of The Witch's Mirror and Llewellyn's Little Book of Halloween. Since 2007, Mickie has been a regular article and illustration contributor to Llewellyn's annual almanacs and datebooks, as well as many other Llewellyn books. Her art has been seen as set dressing on SyFy's The Magicians and Bravo's Girlfriend's Guide to Divorce. Her home studio is set up right next to the cottage workshop that produces products with her art for people all over the world run by her husband, author and craftsman Daniel Mueller.
Visit her online at www.MickieMuellerArt.com.
FEATURED TITLE BY THIS AUTHOR

Boxed Kit | $29.99 | 9780738750057 | September 2018
Dogs bring a special kind of magic into our lives with their boundless joy and unwavering loyalty. This charming tarot deck captures that magic, showcasing each dog's beauty, wisdom, and...
Read more
OTHER TITLES BY Mickie Mueller
ARTICLES BY THIS AUTHOR
Date: 2006-07-03
I have a dark confession to make. I have been a mother for 20 years now, and I am not perfect. My mother and grandmother were not perfect either, although according to the family joke, we are all "almost" perfect! In fact, I don't know anyone ...
Date: 2006-01-30
When the phone in my little magical shop rang on that chilly day in February of 2004, I figured it was someone asking for directions or looking for a certain hard to find item or book. But the voice on the other end said, "Hi, this is Raven ...
Date: 2005-06-13
The first time I ever heard of Reiki, I was at a local pagan festival. I was helping out a friend with his shop's booth for the weekend. Before we packed up to go home, I did some quick shopping for thank you gifts I wanted to give the family ...
Date: 2005-03-21
I have to work late, it is Imbolc, and the sun is setting. We usually light a candle in every room at dusk to bring blessings during the cross quarter holiday. "I'll never make it home in time," I mutter to myself as I come bustling out of the ...