Author Information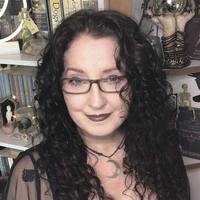 Photo by Brittany Sherman
Mickie Mueller
Mickie Mueller is an award-winning and critically acclaimed artist of fantasy, fairy, and myth. She is an ordained Pagan minister and has studied Natural Magic, Fairy Magic and Celtic tradition. She is also a Reiki healing master/teacher in the Usui Shiki Royoho Tradition. Mickie enjoys creating magical art full of fairies, goddesses, and beings of folklore. She works primarily in a mix of colored pencil and watercolor infused with magical herbs corresponding to her subject matter.
Mickie is the illustrator of The Well Worn Path and The Hidden Path decks, the writer/illustrator of The Voice of the Trees and A Celtic Divination Oracle, and the illustrator of The Mystical Cats Tarot. Since 2007, Mickie has been a regular article and illustration contributor to several of the Llewellyn periodicals. She resides in Missouri.
To learn more about Mickie, check out her online gallery and blog.
FEATURED TITLE BY THIS AUTHOR

Annual - Almanac | $12.99 | 9780738737799 | July 2017
Discover unique perspectives on the magic of life's journey with Llewellyn's 2018 Magical Almanac. Inspiring all levels of magical practitioners for more than twenty-five years, this...
Read more
OTHER TITLES BY Mickie Mueller
ARTICLES BY THIS AUTHOR
Date: 2006-07-03
I have a dark confession to make. I have been a mother for 20 years now, and I am not perfect. My mother and grandmother were not perfect either, although according to the family joke, we are all "almost" perfect! In fact, I don't know anyone ...
Date: 2006-01-30
When the phone in my little magical shop rang on that chilly day in February of 2004, I figured it was someone asking for directions or looking for a certain hard to find item or book. But the voice on the other end said, "Hi, this is Raven ...
Date: 2005-06-13
The first time I ever heard of Reiki, I was at a local pagan festival. I was helping out a friend with his shop's booth for the weekend. Before we packed up to go home, I did some quick shopping for thank you gifts I wanted to give the family ...
Date: 2005-03-21
I have to work late, it is Imbolc, and the sun is setting. We usually light a candle in every room at dusk to bring blessings during the cross quarter holiday. "I'll never make it home in time," I mutter to myself as I come bustling out of the ...