Author Information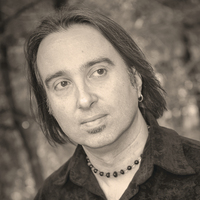 Photo by Adam Sartwell
Christopher Penczak
Christopher Penczak is an award-winning author, teacher, and healing practitioner. He has studied extensively with witches, mystics, shamans, and healers in a variety of traditions from around the world to synthesize his own practice of magick and healing.
Formerly based in the music industry, Christopher was empowered by his spiritual experiences to live a magickal life, and began a full-time practice of teaching, writing, and seeing clients. He is the author of the award-winning Temple of Witchcraft series: The Inner Temple of Witchcraft, The Outer Temple of Witchcraft, The Temple of Shamanic Witchcraft, and The Living Temple of Witchcraft Volumes 1 and 2.
His other books include City Magick (Red Wheel/Weiser), Spirit Allies (Red Wheel/Weiser), Gay Witchcraft (Red Wheel/Weiser), Magick of Reiki, Sons of the Goddess, Ascension Magick, Instant Magick, The Mystic Foundation, The Witch's Shield, The Witch's Coin, and the forthcoming The Witch's Heart. Christopher Penczak resides in New Hampshire. Visit him online at http://www.christopherpenczak.com.
FEATURED TITLE BY THIS AUTHOR

Trade Paperback | $16.99 | 9780738740393 | May 2014
Open up to a new realm of spiritual practice. Plant and Fungus Totems provides techniques for creating respectful partnerships with totems, archetypal spirits that embody the qualities of their...
Read more
OTHER TITLES BY Christopher Penczak
ARTICLES BY THIS AUTHOR
I'm a man of many hats. When people ask me what I do for a living, I'd like to answer that I'm a witch, because it's really my vocation, but such a provocative answer doesn't really encourage communication. I could answer writer, minister or priest, but my heart lies with education. If I didn't have the vocation of a witch, I think I'd be teaching high...
Sometimes the word "witch" scares people off. I can understand that. I thought it was silly at first. When my first teacher, a good family friend, revealed she was a witch, I didn't understand. But I soon found out the spiritual traditions of witchcraft stretch across the globe and throughout time. Witches were the priestesses and priests of the ancient world. They kept the mysteries of magick...
With the seventh and final Harry Potter book, Harry Potter and the Deathly Hallows by J.K. Rowling, being released soon, much interest is growing in the media and public concerning magick, witchcraft and wizardry. With the huge buzz brewing, one has to wonder: how real, how accurate, is the magick being presented in the Harry Potter series?
Sex. It's one of the spiritual mysteries. You can't really explain it. You have to experience it directly, much like all of the consciousness-expanding mysteries of both Eastern and Western traditions. So many creation stories have the universe ...
I love watching smoke rise from burning incense. I am mesmerized by the flickering candle flame on the altar. I love drinking ritual wine from my chalice and smelling the scent of a magickal oil. But it's hard to involve all those things in my ...
Christopher Penczak, author of The Mystic Foundation, discusses the greatest spiritual blessing and greatest spiritual curse of our time, and offers a meditation exercise to work with the five elements and find balance in your life.
Not long ago, I was experiencing some health problems and nothing I did seemed to help. I went through my normal regime of alternative health options — energy work, herbalism and crystals — and found no relief. I tried my doctor, and didn't get a ...
When most people think of holistic health, numerology doesn't spring to mind. I know I didn't think of numerology as a part of a balanced healing regime. At first glance, one wants to relegate numerology to simple fortune telling and associate it ...
Alongside writing and teaching witchcraft, I also teach classes on holistic health and alternative healing methods at local centers in the New England area. Most of my students don't know my background as a Wiccan author, and just assume that I have ...
Reiki is one of the most popular, yet least understood, healing modalities. As a Reiki Master, I find myself educating people on Reiki and clearing up many misunderstandings. On a whole, people know Reiki practitioners are involved in a form of ...
When I got involved in Wicca, I found that most of my teachers emphasized the Goddess. Many people have been raised with traditions that emphasized the male aspect of divinity. These same people often come to nature-based religions with a desire to ...
A lot of pagan men find it tough to be a man in Wicca. The popular misconception of Wicca, one among many, is that it is a Goddess religion only for women. Such thoughts are simply untrue. Though there are some traditions that focus on the Goddess ...
By far the most important tool I've learned to use in my holistic studies has been the techniques of meditation. Though I started with an interest in more esoteric arts, I had a very wise teacher who emphasized that one must have awareness and ...
You are what you eat. We've all heard that a million times before, haven't we? It's a call to be conscious about our food choices. Our health is dependent upon the fuel our body has to create our lives. Eat healthy, vitamin rich foods, and you have ...
Reiki is the power to heal using "universal life force." Reiki itself is a system of natural healing coming to the west from Japan. A trained practitioner of Reiki healing has the ability to channel pure life force - what is known as ki, chi, or ...
In the holistic world of the mind-body-spirit connection, we still tend to focus on the body in our healing practice. Body work, yoga, herbs and even crystals are physical therapies. They require action. If we don't work with them, we don't receive ...
Through yoga, I first had exposure to the Eastern traditions of spirituality. At the time though, I didn't think of it as spiritual. I was looking for a form of exercise that didn't involve lifting heavy weights or spending hours on a treadmill. I ...
As a practicing witch, I stand between many worlds. One of the first definitions that I learned from my teachers for a witch is a walker between worlds, like a shaman with one foot in the material and one foot in the spiritual. This is interpreted ...
The wisdom of the chakras permeates new age teachings, holistic healing, energy therapies and modern ceremonies. Its popularity is due to how practical, holistic and spiritually elegant this system of seven power centers is. Though it comes to the ...
As a public witch and teacher, one of the most frequently asked questions I get is about psychic attack. Is psychic attack possible? Can people really do curses? Are psychic vampires real? Are there harmful spirits? What can I do to protect myself? ...
From the popular 80's sitcom, Designing Women, I heard the skeptical, shrewd, logical character Julia scold the more new age free-spirited Charlene with, "crystals are just rocks. Pass it on." And at the time, I agreed with Julia. Crystals are just ...
So many aspiring witches start with spell books, formulas, and recipes. They have great success, but don't really understand what they are doing, or why they are doing it. All they know is that it works. I know that's how I got started. A spell ...
Our first healers are from the world of plants. In the primitive societies ministered by the shaman and wise one, early humans learned to cure by using plants. Even today, the basis of our pharmaceuticals comes from the plant kingdom. Modern science ...
Sound, tone, voice, and music are powerful forms of magick and celebration. Before I became a witch, the part of traditional religious services I loved the most was the music; using song as celebration. When I got involved in Wicca, the traditions I ...
When I started on the path of witch, my teachers stressed to me the importance of meditation. Not only is it a skill that witches should learn to help with spells and rituals, but meditation all by itself is quite magickal. What is magick? Magick ...
Music is the universal language, affecting everyone whether they realize it or not. Sound, tone, volume and harmony work together to affect our mood, outlook and ultimately our personal energy. Have you ever found your thoughts and feelings altered ...
We live in a time and place of both a great blessing and a great curse. Never before in the history of humanity has everyone had access to all the world's mysteries and wisdom. The great blessing is this — the religions, myths, rituals and spiritual ...