Author Information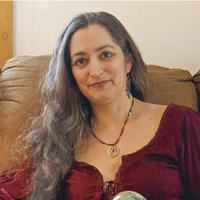 Photo by Bobbie Hodges
Deborah Blake
Deborah Blake is the award-winning author of The Goddess is in the Details, Everyday Witchcraft, and numerous other books from Llewellyn, along with her Everyday Witch tarot deck. She has published articles in Llewellyn annuals, and her ongoing column, "Everyday Witchcraft," is featured in Witches & Pagans.
When not writing, Deborah runs the Artisans' Guild, a cooperative shop she founded with a friend in 1999, and also works as a jewelry maker, tarot reader, and energy healer. She lives in a 130-year-old farmhouse in rural upstate New York with various cats who supervise all her activities, magickal and mundane. She can be found online at Facebook, Twitter, and www.deborahblakeauthor.com.
FEATURED TITLE BY THIS AUTHOR

Hard Cover | $15.99 | 9780738753232 | October 2018
Deepen the bond between you and your cat as you weave magic together. This wonderful and witchy book is filled with a wide variety of spells, charms, and recipes that you can use to improve the lives...
Read more
OTHER TITLES BY Deborah Blake
ARTICLES BY THIS AUTHOR
Date: 2016-12-15
After ten years and ten books with Llewellyn, author Deborah Blake returns with the new Everyday Witch Tarot, illustrated by Elisabeth Alba. Discover how the deck came to be, and all it has to offer.
Date: 2015-03-02
Deborah Blake has written a number of books over the years, but far and away the most popular one was the third, The Goddess Is in the Details; it recently went back for a sixth printing. Here she discusses its popularity and its companion, her new book, Everyday Witchcraft: Making Time for Spirit in a Too-Busy World .
Date: 2014-04-07
Everyone knows that brooms and witches go together. And while not every witch has a cat (or a funny-looking hat, for that matter), most of us own a broom. But how many of us actually use them for our magical work? Deborah Blake, author of The Witch's Broom, explains a few of the many magical uses for the humble broom.
Date: 2012-10-15
Ritual. The very word is evocative, conjuring images of everything from mysterious robed figures sketching arcane runes in the air to joyous women dancing skyclad around a bonfire. Ritual comes in many different forms—and that's good, because ritual is a highly personal thing, and what suits one person perfectly will leave another cold. But done correctly, it's…well…magickal. Deborah Blake, author of the Everyday Witch series and the new book Everyday Witch Book of Rituals, discusses just why rituals are so important...and magickal.
Date: 2010-07-26
We are all feeling the effects of a tough economy and having to make difficult choices about how we spend whatever money we still have. And this concern can affect our Witchy lives as well as our mundane one. Let's face it—Witchcraft can cost you a lot of money if you're not careful: ritual garb and velvet cloaks, athames and wands, crystals, magickal candles, herbs, and oils...
Date: 2009-05-18
Most of us would agree that there is more to being a Witch than celebrating the Sabbats or casting a spell under the full moon. That being said, many modern Pagans struggle to find ways to integrate their spiritual beliefs with their busy and often stressful mundane lives. Work, family, significant others, and all the responsibilities that come with everyday survival can make it difficult to...
Date: 2008-09-29
The harvest festivals are one of the most important traditions handed down to us from our earlier Pagan ancestors. These holidays may seem irrelevant to the modern Witch, who often doesn't even have a garden, but I actually think that they serve an important purpose. Deborah Blake, author of Circle, Coven & Grove and the newly-released Everyday Witch A to Z, discusses the importance of the harvest festivals to today's Witch.
Date: 2008-06-01
Midsummer! Also known as Litha, this solstice holiday is the longest day of the year and the shortest night. The earth is at its most fertile, and life is bursting out all over (yes, even here in the Northeast). The goddess, in her role as Mother, is pregnant with the child of her consort, the sun god, and the whole world blooms with her. This is the best time for magickal work for abundance,...
Date: 2007-11-30
If you look at almost every ritual, you will at some point find an instruction that tells you to "ground and center." For instance, you may be told to drum and raise energy, send that energy into your spell, then ground and center. No problem, right? Except for one thing: hardly anybody actually tells you how to do it. Maybe Witches are supposed to be born knowing how to ground and...