Author Information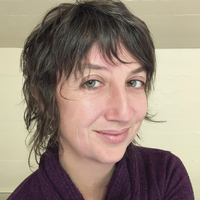 Photo by Molly Irene Media
Katalin Koda
Katalin Koda is a passionate explorer of earth stories, women's mysteries and the mythic expression of our world. A practicing Vajrayana Buddhist, Koda also works with indigenous wisdom and shamanism in her healing practice. She is a visionary artist, poet and dreamer and has been teaching workshops on women's wisdom and spirituality, Reiki, shamanic journey and chakra healing for over fifteen years. The author resides in Hawaii. Visit her website www.katalinkoda.com for more information.
FEATURED TITLE BY THIS AUTHOR

Trade Paperback | $15.95 | 9780738720036 | July 2011
You are a creator, lover, priestess, and healer—a multifaceted goddess with confidence, spiritual wisdom, and the power to reinvent yourself. Based on a lifetime of deep spiritual study and her...
Read more
ARTICLES BY THIS AUTHOR
Date: 2016-03-08
As we approach the Spring Equinox, we feel the warming air and are inspired by the natural beauty of rebirth after winter. The story of Demeter and Persephone powerfully captures the unfolding of the seasons, welcoming in new light. This myth is a tale of the deep connection between mother and daughter and also the story of maidenhood and innocence and its passage into maturity and fullness....
Date: 2015-07-10
Summertime brings out the brilliance of sunshine, sunflowers, and an abundance of active energy. In the long summer days of heat and light, we find the sacred feminine aflame in the Japanese sun Goddess of beauty and radiance, Amaterasu. Amaterasu is the delightful sun Goddess of the Shinto Japanese culture whose name means "Great Divinity illuminating heaven." Unlike most cultures, the ancient...
Date: 2015-05-08
From Where Do the Cards of the Tarot Originate? Mystery shrouds the origin of Tarot cards, but ancient oracle decks have been found in a wide range of places, from Hungary to India to China. Some historical sources credit the traveling, wandering musicians and performers who roamed (originally) from India to Persia to Egypt for carrying cards and methods of divination with them. Today's...
Date: 2011-07-25
For thousands of years, human beings have honored our connection to the earth, seasons, and major life transitions through ceremony, ritual, and storytelling. These practices are the sacred technology of indigenous people and are an inherent part of our past and ancestral wisdom. In these current times of disconnection, feelings of lack and poverty, and polluted air and waters, the importance of creating ceremony is becoming more apparent. Katalin Koda, author of Fire of the Goddess and Sacred Path of Reiki, provides easy ways to create your own ceremony so that we too can reconnect with the earth, empower ourselves, heal, and transform into more balanced humans.
Date: 2009-08-31
As we develop along the path as healers and magical practitioners, we find that certain tools enhance our practice immeasurably. One of the most important aspects of good healing and magical work is to ground and center. Katalin Koda, author of The Sacred Path of Reiki, illustrates the Grounding Cord Exercise, as well as 8 other ways to ground and center.
Date: 2008-12-22
As the New Year approaches, our thoughts often turn to letting go of the old, making new plans, and forming New Year's resolutions. The New Year is our chance to reinvent ourselves, to take stock of what we have experienced over the past year and what we hope to welcome in as the seasons turn. Katalin Koda, author of Sacred Path of Reiki, discusses how we can remain balanced and positive in these times of chaos.