Author Information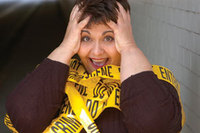 Sue Ann Jaffarian
Sue Ann Jaffarian is a full-time paralegal who lives and works in Los Angeles. A member of Mystery Writers of America and Sisters In Crime, Sue Ann is the author of three mystery series--Odelia Grey, Ghost of Granny Apples, and Fang-in-Cheek--and also writes general fiction and short stories. She is widely sought after as a motivational and humorous speaker.
For the most up-to-date list of all Sue Ann's activities, visit the calendar page at www.sueannjaffarian.com.
FEATURED TITLE BY THIS AUTHOR

Trade Paperback | $14.99 | 9780738718842 | December 2017
Viral videos and dangerous criminals turn Odelia and Greg's good deed into accusations of murder It's the dog days of summer for Odelia and Greg after they rescue a dog from a closed car on a...
Read more
OTHER TITLES BY Sue Ann Jaffarian