Author Information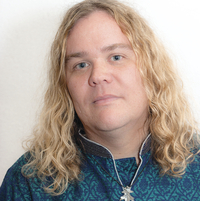 Photo by Tymn Urban
Jason Mankey
Jason Mankey writes online at Patheos Pagan and is a contributor for the magazine Witches & Pagans. He talks about rock and roll, Pagan deities, and various aspects of Pagan history at festivals across North America. Jason is the author of The Witch's Athame and The Witch's Book of Shadows and the coauthor of The Witch's Altar. He lives in California with his wife Ari and can be found online at patheos.com/blogs/panmankey.
FEATURED TITLE BY THIS AUTHOR

Trade Paperback | $19.99 | 9780738757971 | January 2019
Beyond the Taboos, the Power of Magick Awaits The rites and rituals of Witchcraft are life-changing experiences, but they are also steeped in mystery. Transformative Witchcraft delves into some of...
Read more
Event Schedule:
01-01-2019 Pagan Pages Book Review
OTHER TITLES BY Jason Mankey