Author Information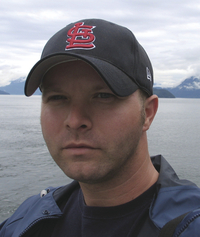 Photo by Rich Newman
Rich Newman
Rich Newman (Tennessee) has been investigating the paranormal for over ten years and is the founder of the group Paranormal Inc. His articles have appeared in Haunted Times and Paranormal Underground. Learn more about his investigations at http://www.paranormalincorporated.com.
FEATURED TITLE BY THIS AUTHOR
Trade Paperback | $15.99 | 9780738753362 | October 2017
The Civil War left behind unforgettable stories of brave soldiers, heartbroken families, violent battles . . . and a paranormal legacy that continues to fascinate and scare us more than 150 years...
Read more
OTHER TITLES BY Rich Newman
ARTICLES BY THIS AUTHOR
Date: 2017-10-09
There's something about taking your last gasp of life while gunning for your fellow man that has produced thousands of haunted battlefields all across this planet. There are more than 160 instances of this just in the United States alone. But what about the rest of the world? Do they also have these haunted locations steeped in dark history? The answer is a resounding yes! Rich Newman, author of Ghosts of the Civil War: Exploring the Paranormal History of America's Deadliest War, explores this phenomena.
Date: 2016-09-19
Exterior locations such as bridges present unique challenges for paranormal investigations, and it's always better to be prepared. Rich Newman, author of the new Haunted Bridges, provides some tips and tricks to make the most out of your investigation.
Date: 2013-05-20
The scariest, darkest paranormal cases usually start out as a seemingly routine investigation; then, somewhere along the line, it becomes clear that something much more sinister is happening. But how do we know when the line to the dark side has been crossed? And what do we do about such cases? The first step in such situations to is identify what, exactly, is happening at the location. Rich Newman, author of Ghost Hunting for Beginners, The Ghost Hunter's Field Guide, and the new Devil in the Delta, details three basic types of negative entities.
Date: 2011-09-15
Deciding who to take along with you on your ghost adventures may be one of the most important decisions you make. Besides the fact that you want individuals who have the same paranormal belief system as you (What use is a psychic on your team if nobody else believes in psychics?), you will want to take along people that you trust implicitly. If a member of your team approaches you with an...
Date: 2011-08-29
Most of us associate the term "ghosts" with the beings we have defined and known in Western culture (mainly North America, Great Britain, and Ireland). But, interestingly, ghosts are a universally-known phenomena that have been witnessed throughout the world. With Halloween approaching fast—and with it, increased attention to the spiritual world—I thought it would be fun to talk about some of the more interesting, yet lesser known, types of ghosts from all around the world. Rich Newman, ghost hunter and author of The Ghost Hunter's Field Guide and the forthcoming Ghost Hunting for Beginners, details the nuances of ghost history and lore from across the globe.
Date: 2011-02-07
For those paranormal investigators that hunt ghosts, they often encounter those that believe their haunting is caused by demons, rather than ghosts. Why is it that some people jump to a conclusion of demonic infestation? Are all hauntings the work of demons? Rich Newman, author of The Ghost Hunter's Field Guide, discusses hauntings versus demonic infestations.