Author Information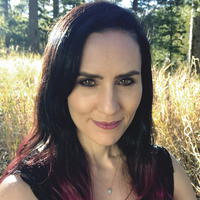 Photo by Ted Bruner
Tess Whitehurst
Tess Whitehurst teaches magical and intuitive arts in live workshops and via her online community and learning hub, the Good Vibe Tribe Online School of Magical Arts. An award-winning author, she's written eight books, which have been translated into 18 languages. She has appeared on the Bravo TV show Flipping Out as well as morning shows on both Fox and NBC, and her writing has been featured in Writer's Digest, Spirit and Destiny (in the UK), and online at elepantjournal.com. She lives in the Rocky Mountains near Boulder, CO. Visit her online at TessWhitehurst.com.
FEATURED TITLE BY THIS AUTHOR
Annual - Almanac | $12.99 | 9780738746159 | July 2018
Live your Craft every day with Llewellyn's Witches' Companion. This indispensable guide will keep you one step ahead of the latest witchy trends, practices, and issues....
Read more
OTHER TITLES BY Tess Whitehurst
ARTICLES BY THIS AUTHOR
Date: 2017-01-16
If one thing has been sacred to our species since time immemorial, it is our trees. Dwelling between the realms of earth and sky, we humans are beings of both worlds, and our very life is a balance and synthesis of form and spirit, below and above. What more appropriate symbol for this could there be than a tree, rooted in the earth, and stretching his branches and leaves upward into the light? Tess Whitehurst, author of the new Magic of Trees, has created an oracle to access the wisdom the trees hold for us. So, pick one, and read on to see what the trees are telling you!
Date: 2015-05-04
Think you can't visualize? Not true. When you crave something—say chocolate—you strongly sense chocolate in your mind. Perhaps you sense it through taste, texture, or appearance…even when that chocolate isn't anywhere in sight. Here Tess Whitehurst, author of several books and the new Holistic Energy Magic, explains visualization and provides four easy exercises to help us visualize.
Date: 2013-10-07
In today's society, we are bombarded with mixed messages regarding appearance that many of us may feel that we are "damned if we do, and damned if we don't." But fashion and self-care don't need to be dismissed as silly or shallow—rather, as Magical Fashionista author Tess Whitehurst illustrates, fashion is a powerful and magical tool for personal power and transformation.
Date: 2013-09-17
On a Thursday during a waxing moon, choose a freshly washed, attractive pair of pants that feel abundant to you (they don't have to actually be expensive, but it's ideal if they at least look that way) and hang them on a hanger. Light a stick of cinnamon or patchouli incense and safely smudge the pants with the smoke, being careful to catch any burning embers with an incense holder or dish. As...
Date: 2013-06-10
While it may sound like a contradiction, flower magic is both highly subtle and highly potent. It's subtle in that floral energy patterns lie beneath the concrete, everyday realm of awareness. It's potent in that a flower's vibratory patterns can merge with our personal patterns in ways that infiltrate and shift every aspect of our awareness and life experience, all the way down to molecules, thought waves, and emotional states. Like water dripping on a stone, the subtlety of a flower's vibrational signature—especially when combined with a clear-as-crystal intention—can steadily and relentlessly bring about lasting change. Tess Whitehurst, author of The Magic of Flowers, provides seven rituals for lasting and powerful flower magic.
Date: 2012-09-03
Metaphysics isn't about adding something else into our lives, like a ritual. It's opening up to, and tapping into, the generous flow of prosperity that is already in existence. Consciously manifesting things that bring us joy, then, is a process of opening up to who we really are and aligning with the divine energies that naturally want to flow through our life experience. Tess Whitehurst, author of The Art of Bliss, explains the concepts of manifesting joy and happiness in our lives, and provides a quiz to discover how each of the nine keys to bliss are currently present in our lives.
Date: 2012-01-09
According to Tess Whitehurst, author of The Good Energy Book and Magical Housekeeping, consciously managing our considerable supply of spiritual energy is a must if we are going to feel happy, joyful, and empowered on a regular basis. Another way to look at this is as "good magical hygiene;" here Tess provides ways to keep our energy clear, focused, positive, and powerful throughout the day.
Date: 2011-05-25
Use this mist as you would a commercial room-freshening spray, and mist it generously throughout the room or house in order to infuse the space with its unique, custom-tailored magical vibrations. Spray it high into the air. Magic Stress Eraser Mist Simple. It erases stress magically. If stress is a challenge for you, it might be a good idea to keep a travel mister of this in your purse or at...
Date: 2010-06-07
Whether you live in a dorm room, a mansion, a houseboat, a studio apartment, a trailer, or anything else, your home is a potent magical tool. Even small changes in your home can create powerful energetic shifts, setting in motion great waves of positive change on all levels and in all life areas. Tess Whitehurst, author of Magical Housekeeping, details how to make your home a magical tool.