Author Information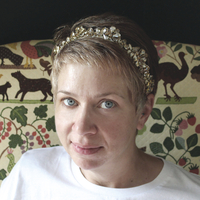 Photo by Amy Blackthorn Photography
Natalie Zaman
Natalie Zaman is the co-author of the Graven Images Oracle deck (Galde Press), and the YA novels Sirenz and Sirenz Back in Fashion (Flux) and Blonde Ops. Her work has appeared in FATE, SageWoman, and newWitch magazines, and she writes the feature "Wandering Witch" for Witches and Pagans. For more, visit http://nataliezaman.com or http://broomstix.blogspot.com, a collection of crafts, stories, ritual, and art for Pagan families.
FEATURED TITLE BY THIS AUTHOR

Coloring Books | $14.99 | 9780738752327 | September 2017
Discover the Magic of Coloring with Intention More than a coloring book and more than a collection of spells, Color and Conjure is all about manifesting your desires with magic and creativity....
Read more
Event Schedule:
10-22-2017 Magical Meetup: Samhain Cemetery Sojourn!
10-25-2017 Coloring and Conjuring for Samhain/Halloween!
11-03-2017 A Magical, Glamorous and Colorful Event with Natalie Zaman and Deborah Castellano!
11-14-2017 Express Yourself! Teen Radio
OTHER TITLES BY Natalie Zaman
ARTICLES BY THIS AUTHOR
Date: 2017-09-11
There's no denying that coloring is fun and relaxing, but it can also be magical—literally. Add a few esoteric elements, timing, and intention to turn ANY coloring page into a magical tool. Natalie Zaman, co-author of Color and Conjure, provides eight tips for doing just that.
Date: 2016-10-24
For many witches, autumn is a favorite season, and Samhain, a favorite Sabbat, and October's waning days are about remembering, of honoring ancestors and celebrating their lives, and of course, looking ahead. Natalie Zaman, author of the new Magical Destinations of the Northeast, provides 13-plus sites that are perfect sites for celebrating Samhain. They may not be what you expect, but remember, America is full of tricks and treats!