Author Information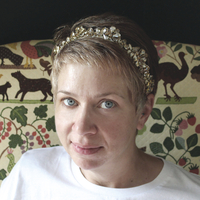 Photo by Marianna Zaman
Natalie Zaman
Natalie Zaman is the author of Color and Conjure and Magical Destinations of the Northeast (Llewellyn); the co-author of Sirenz (Flux), Sirenz Back In Fashion (Flux), and Blonde Ops (Thomas Dunne Books); and is a contributor to various Llewellyn annual publications.
FEATURED TITLE BY THIS AUTHOR

Annual - Datebook | $12.99 | 9780738746166 | July 2018
Live your craft throughout the year and stay organized while you do it. Llewellyn's 2019 Witches' Datebook features beautiful illustrations from award-winning artist Kathleen Edwards, a...
Read more
OTHER TITLES BY Natalie Zaman
ARTICLES BY THIS AUTHOR
Date: 2017-09-11
There's no denying that coloring is fun and relaxing, but it can also be magical—literally. Add a few esoteric elements, timing, and intention to turn ANY coloring page into a magical tool. Natalie Zaman, co-author of Color and Conjure, provides eight tips for doing just that.
Date: 2016-10-24
For many witches, autumn is a favorite season, and Samhain, a favorite Sabbat, and October's waning days are about remembering, of honoring ancestors and celebrating their lives, and of course, looking ahead. Natalie Zaman, author of the new Magical Destinations of the Northeast, provides 13-plus sites that are perfect sites for celebrating Samhain. They may not be what you expect, but remember, America is full of tricks and treats!