Author Information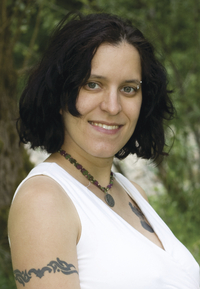 Photo by Sarah O'Brien
Alexandra Chauran
Dr. Alexandra Chauran (Issaquah, WA) is a second-generation fortuneteller, a high priestess of British Traditional Wicca, and the queen of a coven. As a professional psychic intuitive for over a decade, she serves psychic apprentices and thousands of clients. She received a master's in teaching from Seattle University and a doctorate from Valdosta State University and is certified in tarot. In her spare time, when she's not teaching students of Wicca, she enjoys ham radio with the call sign WI7CH. She can be found online at SeePsychic.com.
FEATURED TITLE BY THIS AUTHOR

Annual - Almanac | $14.99 | 9780738746098 | July 2018
Explore new ways to deepen your magical practice with Llewellyn's 2019 Magical Almanac. For more than twenty-five years, this almanac has provided useful spells, rituals, and ideas that inspire...
Read more
OTHER TITLES BY Alexandra Chauran
ARTICLES BY THIS AUTHOR
Date: 2016-11-14
The Witch's Runes are simple pictograms that match concepts with symbols that are more understandable in this modern world. I came across the Witch's Runes in my late teen years, and they made an impression on me. They were few in numbers, simple for me to tell apart from one another, and easy to understand. In some ways, the Witch's Runes were a groundbreaking introduction to the concept of...
Date: 2015-11-02
Why is spirituality important? Do we need to strengthen our current relationship with the divine? What if we are an Atheist or Agnostic? Alexandra Chauran, author of the new 365 Ways to Strengthen Your Spirituality, details just how spirituality—no matter how you identify your Divine—can help us in our daily lives, and how her spirituality will aid her personal journey with breast cancer.
Date: 2015-07-13
Do you, or someone you know, live a life filled with clutter? While often these tendencies are related to deeper, psychological issues, they can also be a sign that you're looking for something more in your life—like spirituality. Alexandra Chauran, author of the new Clearing Clutter and the forthcoming 365 Ways to Strengthen Your Spirituality, examines how to tell if a spiritual lack is the cause of clutter accumulation.
Date: 2015-02-23
Developing your psychic abilities to the next level can take time, but if you don't take that first step you might not make time for the opportunity. Here, 365 Ways to Develop Your Psychic Ability author Alexandra Chauran presents five days of psychic development exercises that you can try for yourself to see where and how psychic development fits into your life.
Date: 2014-12-29
What is possible after death? Will you be able to talk to your loved ones after you die? Will you be able to help your loved ones? Alexandra Chauran, author of the new How to Talk to Me After I'm Gone, explains the beauty—and benefits—of creating a plan for spirit communication, and proposes that it become a topic of Pagan activism.
Date: 2014-07-14
Casting a circle is a practice that makes use of the life force energy that pervades all things, which is often thought to be the mechanism through which visions are delivered. Alexandra Chauran, author of the new Clairvoyance for Beginners, provides simple instructions for casting a circle to aid in your clairvoyant readings.
Date: 2013-11-11
Elementals are a rich source of magical wisdom, easily accessible through daily activities. But what exactly are these beings of Earth, Air, Fire, and Water, and how can we tap into their energy and power? Alexandra Chauran, author of Faeries & Elementals for Beginners, explains their history and their magic.
Date: 2013-01-21
Wouldn't it be great if you could have a warning system in place to let you know when the work day is about to be so brutally horrible that you might as well just stay in bed? Actually, everybody has access to such a warning system, and it lies right in the palm of your hand. Alexandra Chauran, author of Palmistry Every Day, provides 10 clues to look for in your palms to indicate that perhaps you should stay home from work today.
Date: 2013-01-03
If the fleshy mounts and flat plains are the topography of your hand, the lines are the roads that cross it as you journey through life. Get familiar with the major freeways that mark just about everyone's hand, even if you don't see them change much, because they will help you as reference points for the mounts. Just as you might say, "Hey, didn't there used to be a fast food joint on this...
Date: 2012-04-23
Whether you're just beginning to get in touch with your psychic side, or you are already an advanced reader, deeply in touch with your own inner senses, there are many best practices that can help you with the practical, the spiritual, and the intellectual components of accuracy and precision. One of the simplest psychic tips to implement is to remove your shoes and socks before performing a psychic reading for yourself or others. Alexandra Chauran, author of So You Want to Be a Psychic Intuitive? and Crystal Ball Reading for Beginners explains the connection between bare feet and heightened psychic awareness.
Date: 2011-07-11
Many people gush excitedly that they love fortune tellers, scrying and divination, but feel that they could never do it themselves. Why is this, when these individuals are obviously open to the psychic arts? Are they afraid of what they might see, or that they might see nothing at all? Alexandra Chauran, author of Crystal Ball Reading for Beginners, allays the fears of those new to scrying with a crystal ball.