Author Information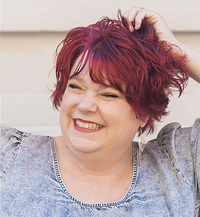 Photo by E.C. Campbell Photography
Kristy Robinett
Kristy Robinett (Michigan) is a revolutionary psychic medium, international author, and inspirational speaker. In addition to giving readings and teaching workshops, she uses her psychic skills to assist with police investigations. Kristy lectures across the country and is a frequent media commentator, appearing on the ID Channel's Restless Souls, Fox News, ABC News, Coast to Coast, and more. Kristy Robinett is also the author of several books, including Tails from the Afterlife: Stories of Signs, Messages, and Inspiration from your Companion Animals (Llewellyn, March 2018); Messages From a Wonderful Afterlife: Signs Loved Ones Send from Beyond; It's a Wonderful Afterlife: Inspiring True Stories from a Psychic Medium; Forevermore: Guided in Spirit by Edgar Allan Poe; Messenger Between Worlds: True Stories from a Psychic Medium; Higher Intuitions Oracle; Ghosts of Southeast Michigan; and Michigan's Haunted Legends and Lore.Visit her online at KristyRobinett.com.
FEATURED TITLE BY THIS AUTHOR

Trade Paperback | $15.99 | 9780738750910 | August 2017
Your Loved Ones Want You to Know that You Are Loved and They Are at Peace in the Afterlife Expanding on her previous book, It's a Wonderful Afterlife, psychic medium Kristy Robinett shares...
Read more
Event Schedule:
08-24-2017 The 8th Annual Michigan Paranormal Convention
09-10-2017 Dead Air
OTHER TITLES BY Kristy Robinett
ARTICLES BY THIS AUTHOR
Date: 2014-11-01
Kristy Robinett has for the past three decades been guided in spirit by Edgar Allan Poe–the famous Gothic writer most known for his bushy eyebrows, heavy drinking, and moody temperament. Yes, that Edgar Allan Poe. Why her? Here she shares her incredible story, dispels skepticism, and invites us to allow our helpers from the other side into our lives.