Author Information
Zeng Hao
Zeng Hao is an artist based in Australia.
FEATURED TITLE BY THIS AUTHOR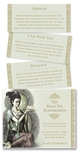 Boxed Deck - Large | $19.95 | 9780738762470 | June 2019
Awaken Kuan Yin's light within you and shine it into your life and into the world. Open your heart and take the journey of your blessed, beautiful life. Experience the Kuan Yin transmission and...
Read more
OTHER TITLES BY Zeng Hao