Author Information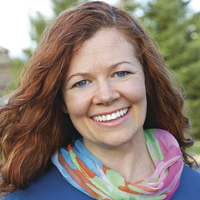 Photo by Peter Arcari
Erin Byron MA
Erin Byron, MA, is a psychotherapist who has studied yoga psychology and expressive arts for twenty years. She is one of the founders of Comprehensive Yoga Therapist Training, specializing in mental health, and author of numerous books and articles on yoga therapy. Erin brings laughter, creativity and play into all of her writing and lectures as she connects you to the joy of what is possible in life. Visit her online at www.ErinByron.com.
FEATURED TITLE BY THIS AUTHOR

Trade Paperback | $17.99 | 9780738752181 | December 2017
Use the Ancient Wisdom of Yoga to Explore the Deepest Aspects of Your Creative Self Combining expressive arts and yoga therapy, Yoga for the Creative Soul is an invaluable guide to healing emotional...
Read more
OTHER TITLES BY Erin Byron MA
ARTICLES BY THIS AUTHOR
Date: 2016-04-04
It is a busy world and most of our lives are full. So full, in fact, that we barely have time to notice how we are living as life hurries by. This sense of disconnected rushing leads to stress and, in time, pervasive anxiety. Mindfulness, or the act of bringing awareness to our thoughts, bodies, and the present moment, is a powerful practice for reducing stress. Here, Erin Byron, MA, co-author of Llewellyn's Complete Book of Mindful Living, presents five areas that mindfulness can help us relieve stress and anxiety.