Author Information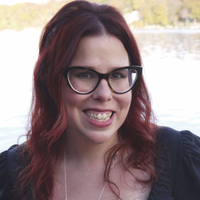 Photo by Hellion Photography
Deborah Castellano
Deborah Castellano (Bridgewater, New Jersey) is a writer, crafter, and glamour girl who serves as a frequent contributor to occult/Pagan sources such as Witchvox, PaganSquare and Witches & Pagans. Visit her online at www.DeborahMCastellano.com.
FEATURED TITLE BY THIS AUTHOR

Annual - Calendar | $14.99 | 9780738746142 | July 2018
Since 1998, Llewellyn's Witches' Calendar has been a favorite way to mark the turning of the Wheel of the Year. This beautiful calendar features magical wisdom, astrological data, and...
Read more
OTHER TITLES BY Deborah Castellano
ARTICLES BY THIS AUTHOR
Date: 2017-10-24
Glamour is everything that makes you interesting and exciting to yourself and others. Using glamour gives you exciting opportunities to accomplish your deepest desires both magically and mundanely. Not sure where to start? Deborah Castellano, author of Glamour Magic, has you covered!
Date: 2017-08-07
It can be difficult to be completely at ease with our inner and outer selves, especially when we often compare ourselves to others around us. However, once we reach that point and are truly present in our body, our magic will be more powerful and come more easily. Deborah Castellano, author of the new Glamour Magic, provides some tips on doing just that.