Author Information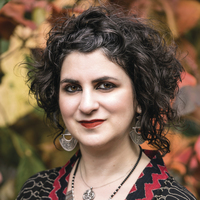 Photo by Carrie Meyer / Insomniac Studios
Laura Tempest Zakroff
Laura Tempest Zakroff can be described as a professional artist, author, dancer, designer, muse, mythpunk, teacher, and witch. She holds a BFA from RISD (The Rhode Island School of Design) and her artwork has received awards and honors worldwide. Her work embodies myth and the esoteric through her drawings and paintings, jewelry, talismans, and other designs. As Tempest, she has been a major pioneer of fusion bellydance for over fifteen years. Her fascination with sacred and ritual dance lead her to bellydance, and she strives to help others connect mind, body, and spirit through movement.

Laura has been a practicing Modern Traditional Witch for over two decades and revels in the intersection of her various paths with witchcraft. She blogs for Patheos as A Modern Traditional Witch, Witches & Pagans as Fine Art Witchery, and contributes to The Witches' Almanac. The Witch's Cauldron is her first book, with a second book on sigil witchery due out in 2018. Laura resides in Seattle, Washington, with her partner Nathaniel Johnstone and at least three cats. Find out more at www.lauratempestzakroff.com
FEATURED TITLE BY THIS AUTHOR

Annual - Almanac | $14.99 | 9780738746098 | July 2018
Explore new ways to deepen your magical practice with Llewellyn's 2019 Magical Almanac. For more than twenty-five years, this almanac has provided useful spells, rituals, and ideas that inspire...
Read more
OTHER TITLES BY Laura Tempest Zakroff
ARTICLES BY THIS AUTHOR
Date: 2018-01-15
We tend to think of sigils for manifesting certain things (a new job, to draw love, to help finish a project) or performing designated tasks (protection, luck, healing). But they can be designed and employed to help guide us for bigger tasks as well. Here, Laura Tempest Zakroff, author of the new Sigil Witchery, provides some steps and ideas for creating a sigil to guide your entire year.
Date: 2017-05-22
For Laura Tempest Zakroff, author of The Witch's Cauldron,, the concept of the chakras never seemed to resonate. That is, until she stumbled upon the Cauldron of Poesy, a Celtic work that likens our energy centers to cauldrons. Here, she details these three cauldrons and how we can use them to our advantage.