Author Information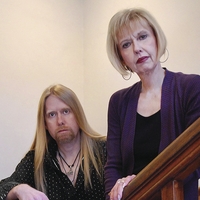 Photo by Roberto Marcatonio Photography
Paulette Moon
Paulette "Momma" Moon is a psychic intuitive who's had a life-long interest in exploring the mysteries of the spirit realm. She has appeared with Chris at thousands of college and university events around the U.S. to talk about Frank's Box and the spirit world and has investigated many infamous haunted locations.
Paulette has also been seen on The ABC Family Channel show Scariest Places on Earth, in the film Chasing the Shadows, and on multiple FOX News shows in the Denver area. Paulette now travels the country with her son Christopher Moon, conducting public psychic galleries and private intuitive counseling sessions. She lives in Lonetree, Colorado, where she owns and operates Spirited Chat Entertainment.
FEATURED TITLE BY THIS AUTHOR

Ghost Box
Voices from Spirits, ETs, Shadow People & Other Astral Beings
Trade Paperback | $15.99 | 9780738751054 | August 2017
The Ghost Box A Device of Fascination and Fear Discover the mind-blowing, bone-chilling stories of a leading investigator as he pioneers the use of this intriguing tool Chris Moon was the first...
Read more