Author Information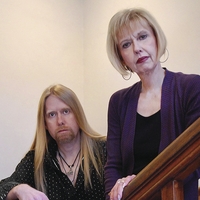 Photo by Roberto Marcatonio Photography
Chris Moon
Chris Moon is a renowned physical and electronic psychic medium, paranormal researcher, educator, and speaker. He was the first paranormal researcher to use the infamous Frank's Box, a device designed to facilitate two-way, real-time communication between the living and the dead. Chris has appeared on numerous national television programs such as Paranormal State, Ghost Adventures, Door to the Dead, and Most Extreme Places to Stay—The Lizzie Borden House, the Today show, and many more. Chris has also been featured in newspapers around the globe including the Los Angeles Times, and has been interviewed on numerous radio shows including Coast to Coast AM with George Noory.
Chris was founder and lead writer and editor for Haunted Times magazine, which was voted the largest and best paranormal magazine in the world by the International Paranormal Acknowledgement Committee. He is a fixture at various metaphysical and paranormal conventions around the United States and Canada, and speaks at several college campuses around the country every year, lecturing on his paranormal and spirit communication research and techniques and providing positive evidence, as well as interactive gallery readings and paranormal investigations using the Spirit Telephone. Chris lives in Louisville, Colorado, and can be found online at www.chrismoonpychic.com.
FEATURED TITLE BY THIS AUTHOR

Ghost Box
Voices from Spirits, ETs, Shadow People & Other Astral Beings
Trade Paperback | $15.99 | 9780738751054 | August 2017
The Ghost Box A Device of Fascination and Fear Discover the mind-blowing, bone-chilling stories of a leading investigator as he pioneers the use of this intriguing tool Chris Moon was the first...
Read more