Author Information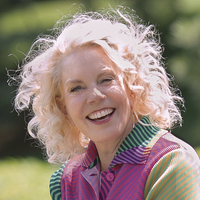 Photo by Katie Cannon Photography
Cyndi Dale
Cyndi Dale (Minneapolis, MN) is an internationally renowned author, speaker, healer, and business consultant. She is president of Life Systems Services, through which she has conducted over 65,000 client sessions and presented training classes throughout Europe, Asia, and the Americas.
FEATURED TITLE BY THIS AUTHOR

Trade Paperback | $14.99 | 9780738751634 | November 2018
Obtain the guidance you need to make better decisions, improve your health, and take purposeful action with renowned author Cyndi Dale. In this book on clairaudience (the ability to hear sounds or...
Read more
OTHER TITLES BY Cyndi Dale
ARTICLES BY THIS AUTHOR
Date: 2017-04-03
The average person makes upwards of 35,000 decisions a day. That's a lot of brain power needed to decipher everything from what to eat for breakfast to how to handle a stressful situation. So, how can we use our own intuitive power to enhance those decisions? With our chakras! Here, Cyndi Dale, author of the new books Subtle Energy Techniques and Llewellyn's Little Book of Chakras, details how our twelve chakras can aid us thousands of times a day so that we can make our best decisions possible.
Date: 2016-02-22
Chakras are everywhere. They are referenced in yoga and meditation. And, we know a lot about how chakras affect our lives. But how much do we know about the science of chakras? Cyndi Dale, author of the new Llewellyn's Complete Book of Chakras, explains how science explains our chakras.
Date: 2015-11-23
If you've ever taken a yoga class—or studied the chakras—you've probably been told that you have seven chakras. And you do—sort of. The truth is that the number of chakras you might perceive, as well as ideas about their function, is based on cultural viewpoint. For instance, a few hundred years ago, many Hindu experts said there are six, not seven, chakras. Yet others counted dozens of chakras. And yet, most people in the West conclusively believe there are seven Hindu-based chakras. So which number of chakras is correct? Is there even a correct number? Cyndi Dale, author of the new Llewellyn's Complete Book of Chakras, explains.
Date: 2014-10-27
Typically defined as the ability to sense what's happening to another, empathy relies on an amazingly complex set of linkages—and can be an incredible source of power. How do we determine our empathic skills, and develop them further? Cyndi Dale, author of the new Spiritual Power of Empathy, explains.
Date: 2013-01-07
Who doesn't want to be with their true love? How do we find our soul mates? Do they really exist? Cyndi Dale, author of several books, including the new Beyond Soul Mates, explains the nature of soul mate relationships and how we can attract them.
Date: 2012-12-03
We've all been in a toxic relationship at some point or another. Perhaps you are in one now. So how do we deal with toxic relationships, those that involve negative, pessimistic people that trip us up? Cyndi Dale, author of the new Beyond Soul Mates, explains that the change must come from within us before we can combat our toxic relationships.
Date: 2011-07-21
Envision a world in which exhaustion, overwork, heartbreak, illness, or even a down day could be solved as easily as we insert a battery into a toy. Imagine how many dreams would become reality, and wishes, celebrations, if a renewable source of energy really existed, battery-operated pack or not. Well there is a reservoir of personal power and it is available to each of us, especially if we know how to call, cultivate, and create with it. Author Cyndi Dale explains.
Date: 2010-03-01
Clairvoyant Cyndi Dale uses her gifts in everything she does, from her speaking and writing to her mothering and grocery shopping. These gifts tune her in to the world around her, and what's more, you can make use of these innate psychic abilities too! Dale, author of Everyday Clairvoyant, explains how we can all use our psychic skills to make our lives easier and better, as well as answer those questions that press us most.